Decorating with 3D wall peel and stick tiles is the fastest, easiest, and most affordable way to update your wall in minutes!
Just peel and stick!
Our 3D peel and stick tiles come in many patterns and colors.
These 3D unique textures make a statement that no one can ignore. 
Our products use the latest craft to imitate the texture and specification of real tiles.
They are more flexible and lighter in weight for easier installation. 
Even only one person can finish the renovation of a whole wall within 1 hour.
Unlike traditional tiles that will require you to cut with a wet saw or specialized tool, these flexible tiles can be cut with scissors or a utility knife, making any installation a cinch.
MAIN FEATURE
Stunning 3D Embossed Texture: Looks like the real tile but adds a soft flexible touch. New Trend of Interior Wall Decoration.
Premium Quality: Made of high-quality PVC environment-friendly materials. L
ightweight, durable, flexible, resistant to water and heat, easy to clean, and maintenance-free.
Fast and Easy Installation: Stronger adhesive backing, just peel and stick installation!
No grout, no cement, and no mess! Easy cut with the utility knife or the scissors. Perfect for a wall decor DIY project.
Widely Applicable: Perfect for featured walls, accent walls, TV walls, sofa background, living room walls, bedroom walls, hallway walls, home office wall decoration, restaurants, etc.
How To Install…
Step 1– You should thoroughly clean and dry your wall.
Step 2– Plan where you want to install and cut the size accordingly to better fit the wall.
Step 3– Peel off the backing and stick side by side for a seamless appearance.
Step 4– Press firmly after confirming the place.
Important Tips
The wall tile can be applied to a clean and sleek surface, it is also available on lightly textured walls.
The wall tile should not be directly in contact with flames, steam, or submerse in water.
It is recommended to keep 12 inches away from the stove.
It is not recommended to use in the shower area.
If you want to remove the tile, you could use a hairdryer to warm up the adhesive and pull softly starting with the corners.
To learn more How to install click on the Installation Guide.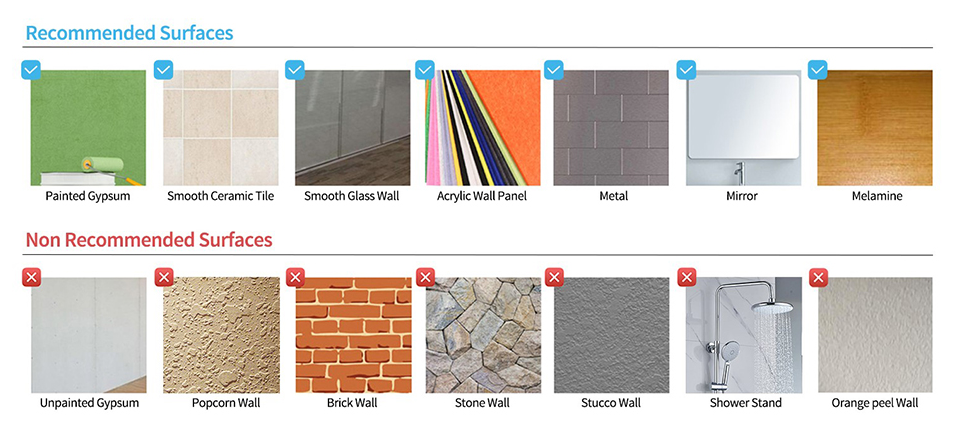 Q&A
Q: Can it be used on existing tiles? And what types of walls is it suitable for?
Answer: It can be used on all flat surfaces, includes existing tiles and painted walls.
Q: Do I need glue for this? Does it stick firmly?
Answer: Of course not, these 3D tile stickers have a nano-glue coating on the back that adheres firmly to the tile.
Q: Is it easy to clean the surface of these tile stickers?
Answer:  Of course, it is stain-resistant and water-resistant, so you can maintain a clean surface all year round!
Q: How long does it last?
Answer: As long as there is no human damage, it will last for years because it is made of heat-resistant and moisture-resistant material.
Q: Does it easy to remove?
Answer: If you want to remove the tiles, it is recommended to use a hairdryer to heat the tiles and then tear off the wall tiles.
SPECIFICATION
Size: 30 x 30 x 0.25cm / 1.8 x 11.8 x 0.1inches for one piece
Material: PVC, PE
Application Type: Self-adhesive/peel and stick
Weight: 50g/sheet