SNOOP ON A STOOP…. limited quantities available.
Snoop on the Stoop is great for the person who has everything. You can put Snoop in different places around the house to bring some fun holiday cheer.
👉Each Snoop elf doll is handmade & hand-painted, each one is unique.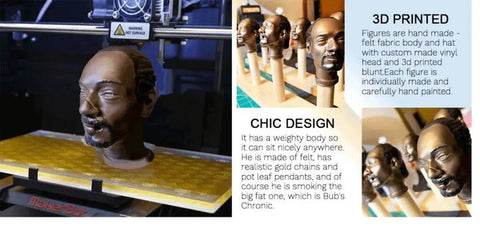 Each snoop is uniquely hand sculpted with clay, hand painted, and sewn. Has a weighted body so he sits nicely anywhere. 
Sits approximately 10" tall including Hat. The outfit is made of Felt, a realistic gold chain & Pot Leaf charm, and of course, he's s**king a big fatty of that bubonic Chronic. 
He is so cute!! He will be used as your "elf" for years to come! Perfect gift for the Snoop fan!Perfect addition to your Christmas decor! 🎄
Click "ADD TO CART" To Order Yours Now!